During my parents stay, our ministry took part in a pretty significant outreach in a village about 2 hours south of Lusaka. Below is a report from one of our missionaries, Luke Whitfield, about how it went. God did some pretty amazing things during their 4 day trip to the bush and many people came to know Christ as their Savior. Please take the time to read this update (a bit long, but very encouraging) and begin praying for the next outreach in November.
Dear Friends
Where do I begin, so much happened during our four days in the bush of Chikankata a short book could be written about our experiences. For those short on time I will give a brief overview of what happened during our time there and those wanting more detail can read on. Let me begin first by praising God for His faithfulness in answering our prayers and the prayers of the many that petitioned the Lord on our behalf…….God is so real and we all experienced His presence in a mighty way over the past few days.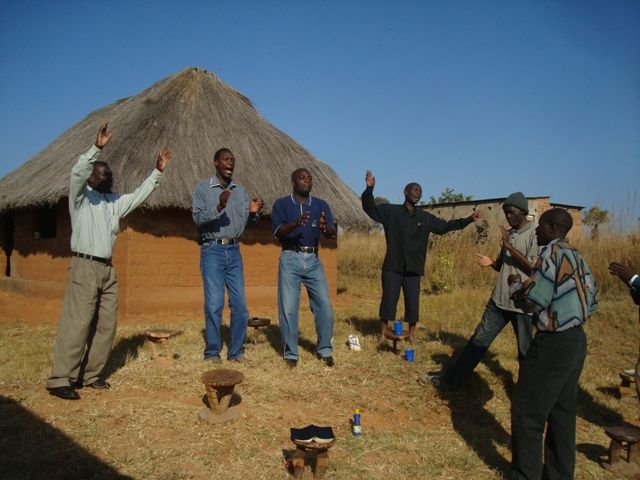 The team we travelled with consisted of five local pastors from Action Zambia Pastoral Leadership Development program, a seasoned Zambian missionary as well as fellow missionary Steve Allen, his daughter Bradyn and my daughter Emma. In all we showed the Jesus Film six times over four days to an estimated 1600 individuals. We believe somewhere near 400 people had their spiritual eyes opened and received Jesus Christ as their personal Lord and Savior. During our time in Chikankata the Lord used our group to deliver at least six individuals from demonic possession including breaking the strong hold of a well known wizard who had terrorized the local people for almost seventy years. There were also at least four testimonies that the group could confirm of physically healings including healings of chronic back pain, spinal cord damage, headaches, and urinary tract damage. Many of the people we ministered to also testified that the fear that had once bound them left after receiving prayers for deliverance. We were also blessed to watch the local Church in Chikankata grow as efforts were made to connect all those who professed Christ with the local pastors we were working hand in hand with. God's power showed up in amazing ways over the course of the four days and the team left Chikankata confident that a shift in the spiritual realm had taken place………..all praise be to God!
………..below is a detailed account of some of the significant events that took place during our stay
Friday Night
During the second showing of our trip we experienced a mighty outpouring of God's presence during and after the film was shown. This showing took place in an area known as Highlands and we use an old storage building as the venue. The building was literally packed full, so much that we had to ask those still coming to stand outside and listen to the story on the loudspeaker. At the point in the film where the crucifixion of Christ occurs we began to hear people wailing, similar to what you would hear at a typical African funeral. There are not words to describe how I felt in that moment as I listened to those cries of deep despair from individuals who most likely were experiencing the story of Jesus in its entirety for the very first time.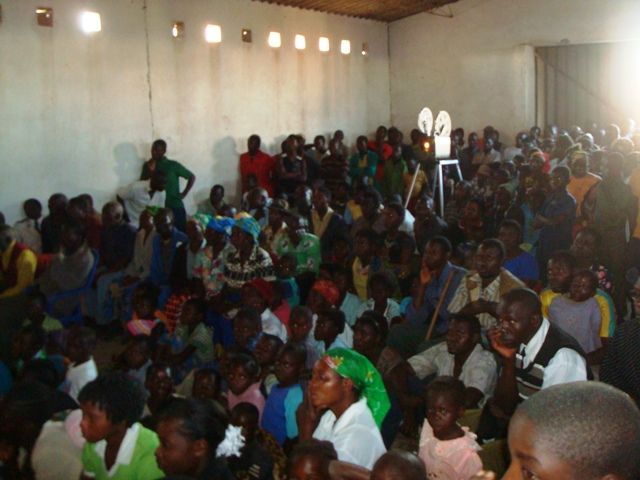 Following the film we asked everyone, probably close to 400 people, to come outside where we gave those desiring to respond to the Gospel a chance to do so. We also asked any who needed prayers for deliverance or for healing to come forward and receive prayer from our team.
It was at this point that we met Violet, a young girl that was probably no more than fifteen years of age. As we prayed for Violet she manifested demonically in ways I have never seen before. Her convulsions were so violent that it was almost impossible for five full grown men to restrain her.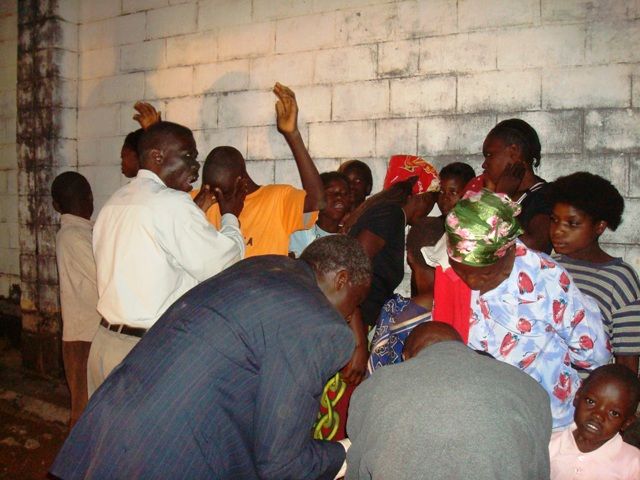 After it became apparent that we were not making any progress with the demons the group decided to take her to her home which was about a mile and a half away. As we approached her small one room hut it became evident that the source of Violet's torment was located there. Violet refused to go into the house and after talking for a while with her parents we found out that the house contained numerous witchcraft charms (articles such as pieces of roots and specials powders) which the family believed would protect them from evil spirits.
We explained that instead of protection the charms were actually functioning as magnets that were attracting the very demonic forces that had overcome their daughter. As their eyes were open to the reality of the situation they agreed to go inside and turn over to us every single charm they had accumulated over the years. Immediately, we proclaimed the name of Jesus over Violet again and she became still for the first time that evening. This caused great amazement in Violet's father and he, without hesitation, asked to be prayed for as well. As the team prayed over him he also manifested demonically, fell to the ground and then became still as the demons left him. Immediately after his deliverance Violet and her parents expressed their desire to turn from living under the bondage of darkness and accepted Christ. Shortly after, Violet ran to a neighbor's house to tell him that she had watched the demons leave here home and flee to his. Full of fear and having just witness what had happened he ran into his house, gathered all his charms as well and asked us to pray with him to receive Christ. I think the most amazing thing about the evening was that despite it being almost ten p.m., a large crowd had gathered to see what was going on. These bystanders not only got to witness the power of God first hand but also had the opportunity to hear the life altering message that is the Gospel of Christ. What makes this story so much cooler is the fact that earlier that morning during our team's devotions we as a team asked God not for large crowds but rather one individual whose conversion would transform the village……….Violet was His answer!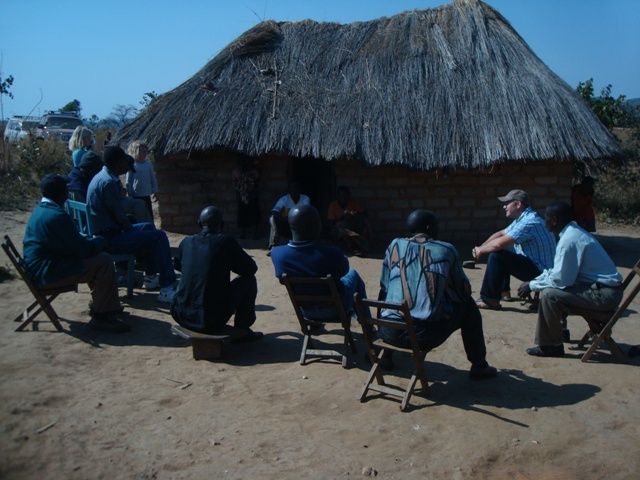 Saturday Night
With the previous night's events still fresh on our minds a new expectancy seemed to grip the group as we eagerly awaited for what the Lord had for us next. During the showing of the film Saturday evening it came to our attention that villagers nearby, who had heard of what had happened in Violet's village, wanted the team to come and deal with a situation they were facing. They explained about a young girl, probably fifteen years old, who was demonically possessed in their village. This girl had recently been married and they believed the demons had come upon her during the traditional ceremonies surround her wedding. As we arrived at the crowed one room home we found the girl lying on the couch clearly unaware of her surroundings. We began to pray for her, and similarly to Violet, she began to manifest demonically speaking in foreign languages her family said she did not know how to speak. The demons began to cause her to fit violently flailing her body about the room. As we prayed for her she would experience moments of release only to return back to her tantrums almost immediately. After some time the team finally felt as though the situation was under control and we left to rejoin the team at the showing of the film. We would not find out until Sunday morning that our assumptions had been wrong….
Sunday Morning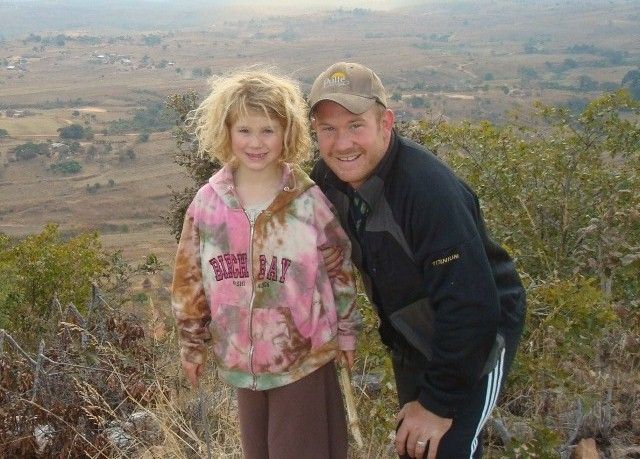 As we awoke on the last day of our trip Steve and I, along with our daughters, decided to climb a foot hill close to our camp site. It was on our way down the mountain that I heard a familiar sound that I recognized from the night before. What I heard was the low toned voice of the demonically possessed girl the team had prayed for on Saturday night still screaming and ranting in the nearby village. As a team we decided that half of us would go to conduct the last showing of the film while the rest of the team would go and deal with the situation we thought we had dealt with the night before. We arrived to a scene that can only be described as pure chaos. The young girl we had prayed for Saturday, whose name we later found out was Rocinet (rose knit) had gone to the house of another young girl in the village where the demons overcame this girl as well. The two of them, Rocinet and Esnat, had then travelled to the house of an old man that they accused of being the one who sent the demons to torment them.
A large group of villagers, probably around one hundred when we first arrived, had assembled at the man's house and rumors were spreading that he was in fact a wizard. These two girls, empowered by the demons, had attacked the old man, beaten him and began to demolish everything within the house. It was obvious they were searching for something and as they did they took articles from inside and threw them out on the front porch where the crowd was watching in disbelief and gripped with fear. The team was unsure of where to begin so with the eyes of the bystanders anxiously watching us we stopped to pray and ask God for direction. We decided we needed to take the two girls back into the house in order to minister to them so we would be out of view from the crowd.
As we approached the girls we commanded them in the name of Jesus to return inside and they immediately obeyed. The team began again, to command (in the name of Jesus) the demons to release their control on the two young girls. After a while the Holy Spirit revealed to me that the problem was that the house was in fact full of demons and that we needed to get the girls out of the house for them to be delivered. We carried them from the house and took them to a small building away from the main house. As we began to pray again the demons immediately left the girls and their demeanor and countenance changed at once. Where there had previously been pain and torment their faces now regained color and reflected the peace that had come upon them. We shared the Gospel with them and without hesitation they both prayed to receive Christ.
One of our team members felt the Holy Spirit was telling him that we needed to bring the old man in with the girls to get a better understanding of what was happening. The first thing we asked him was if in fact there were any charms in the house…….without hesitation he said no. The girls immediately called him on it and began to describe the articles of witchcraft they had been seeking out. At this point the man confessed that all these articles were medicines he needed for his high blood pressure. Too weak to help us locate them the team began to search through the rubble ourselves….to our amazement we found hundreds of witchcraft charms including every article the girls had described to us. We decided to burn the articles so that the anger of the crowd might be appeased (at this point they wanted to burn everything in this man's house).
The fear that gripped the crowd was amazing as they gasped as team members handled the charms without any harm coming to them. This provided a wonderful opportunity to explain that our immunity was not because of any personal powers but rather that…He that is in us is greater than he that is in the world. We finished disposing of the articles and began to preach the Gospel to those watching what was going on. It was also at this time that we brought out the previously possessed girls as testimony to the crowd of what God had just accomplished. They all stepped back in fear at first glance but were overcome with awe as these two young girls began to smile and explain what had happened. When we gave an invitation for individuals to respond to the Message no one within the crowd blinked an eye. We ask again and a little old man stepped forward and raised his hand. This village elder was then followed by another of the village's head men. As the crowd watched these two we began to hear them softly say we all want pray and receive Christ……what an overwhelming experience!
In all, we figure that two hundred people prayed Sunday morning to receive Jesus as their personal Lord and Savior…...hallelujah and amen! Later Sunday afternoon the team joined Chieftainess Mwenda (the traditional leader of the area) for lunch to debrief a bit about the trip. As we described the morning's events she explained to us that the man the two girls had accused had been tormenting the people of that area with witchcraft since she was a little girl (the Chieftainess is in her late sixties) and that she felt a major stronghold had been broken that morning……praise God!
Friends, God is moving in Chikankata. Action Zambia has been given a huge open door to proclaim the Kingdom of Heaven to the peoples of Chikankata. This is a unique opportunity and I would ask that you would pray for continued wisdom in how AZ should move forward. Lord willing we are planning another follow up trip at the end of November to go to some even more remote areas in the Chikankata area. Let me close by encouraging you that what God did and is doing in Chikankata, He is also able to do where you are right now. Anywhere the Spirit of God indwells believers there exists the opportunity to see the powers of darkness in the world we live in overcome and cast down. Remember the words of Jesus……..as the Father has sent me, so I also send you. Go light your world!
Luke